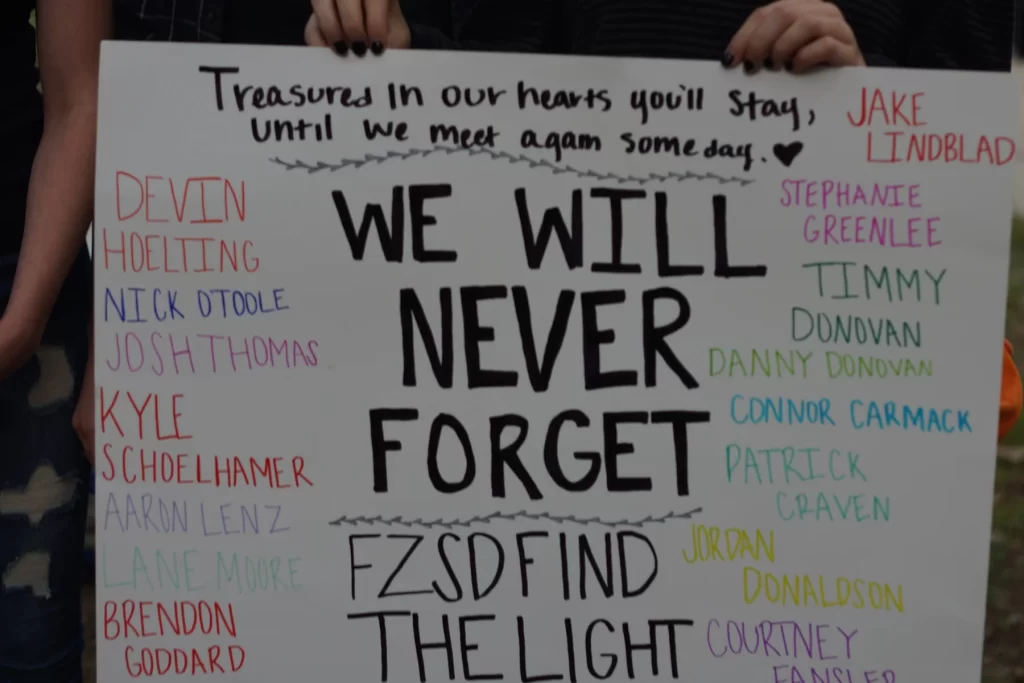 Find the Light was born out of heartbreak. We lost a member of our community to suicide, and as we looked around, we realized that nearly everyone around us had lost someone to a mental health crisis in their teens or early twenties. Our journey began with a single Facebook status calling attention to an abnormally high number of suicides and overdoses in our home school district. By that evening, the post had been shared nearly a thousand times, and a Facebook group was formed. By Saturday, the group had over a thousand members and was rapidly growing.
As students and graduates, we began sharing stories of our own mental health struggles, which we felt we had faced without the support of our school. Individuals from all walks of life – students, alumni, family, and teachers – came together for a single purpose: to make sure that #NotOneMore young person was lost to the epidemic of addiction and suicide. It quickly became clear that we were not alone, that this was not an isolated problem in just our community. We realized that while our schools had the best intentions, they were missing a vital piece of the puzzle: the perspective of the students.
We saw an opportunity to completely flip the conversation on mental health in schools on its head and approach the conversation in a way that had never been tried before – with the students in the lead. We got together with our friends and families and made the decision to turn what began as a simple Facebook status into a new kind of organization dedicated to helping the next generation of students break the cycle and take control of their mental health, always with students leading the way.
At Find the Light, we work to reduce death by suicide and overdose by advocating for more open and effective mental health curriculum and conversations at school and home. We are entirely operated by students and young adults, with one parent representative on the board. Our governance is intentional in that way, so that we are always driven by the needs of our students.